Scottish Volleyball, as a valued partner of Team Scotland, are proud to announce that Alexandra (Sasha) Clegg-Mckeown and Iona Bell have been selected to represent Team Scotland as Beach Volleyball athletes at the upcoming Trinbago 2023 Commonwealth Youth Games which will be taking place from 4-11 August this summer.
Clegg-Mckeown and Bell have been selected for the Women's team event and will compete for Team Scotland alongside athletes from the six other sports on the Trinidad and Tobago programme: Rugby 7s, Triathlon, FAST5 Netball, Athletics, Cycling and Swimming.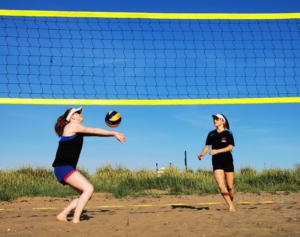 Speaking with Iona, she shared her excitement at being able to represent Scotland at this level:
"Sasha and I have been training hard this beach season and I am thrilled to have been chosen for this event.
"This will be my first time representing Scotland abroad and on the sand. It will be amazing to go to Trinidad and Tobago and face opposition from around the world.
"Hopefully we can hold our own and do everyone proud!"
This honour brings about a huge opportunity for both athletes to gain experience on the international stage, continuing their development as prospects for the 2032 Brisbane Olympic Games, as Sasha alluded to:
"I am honoured to be given this chance to represent my country with one of my best friends doing the thing we love the most.
"This will be a great experience and learning opportunity to help us along our junior beach volleyball career.
"I am extremely excited and thankful. This is mine and Iona's first cap on the beach and it is a really big event.
"I can't wait to take on the challenge!"
There was an incredibly high standard of performance at trials by the shortlist of athletes. From this Clegg-Mckeown and Bell were selected with Lucy Paterson and Eva Blair selected as reserves.
The concept of the Youth Games was created by Scotland in 2000 with the aim of developing young athletes and giving them an early experience of an international multi-sport environment. The event now has a proven track record of uncovering future champions at senior level. Emma Waldie and Jenny Lee, who represented Team Scotland in Beach Volleyball at the Bahamas in 2017 have went on to use their experience to complete a league and cup double with City of Edinburgh.
This current duo of Sasha and Iona both play out of Caledonia West and are coming off the back of a successful Cup Finals weekend which saw them finish second in the Scottish Plate.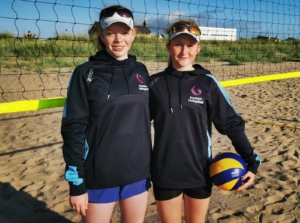 Leading the girls in Trinbago is the Scottish International, Mel Coutts. Accepting this coaching role shows Mel's intent to keep giving back to the sport while also fulfilling her duties as a member of the Women's Beach playing squad by guiding the next generation alongside her decorated playing career, which includes call-ups to two commonwealth games; in the Golden Coast and most recently Birmingham:
"I am delighted and honoured to coach Scotland's youth team at YCWG.
"I look forward to seeing the team develop and progress in the build-up and throughout the Games and will support them to make the most of this fantastic opportunity."
A further thank you to Colin Paterson and the Scottish Volleyball Performance Management Group and Scottish Volleyball Board for their role and support during selection.